Warning!
This article may contain spoilers.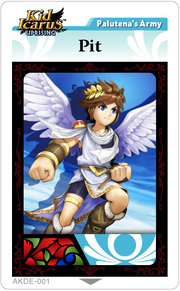 AR Cards
(short for Augmented Reality Cards) are cards that were manufactured for compatibility with the
Nintendo 3DS
. By scanning a
Kid Icarus
AR Card to a copy of
Kid Icarus: Uprising
, the player will receive an
Idol
, as well as 100
Hearts
.
Functionality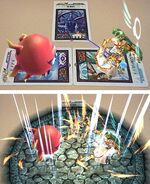 According to
Masahiro Sakurai
, the 3DS's camera recognizes the images on AR Cards at a resolution of 4 by 4, and reads the "colorbit" at the bottom left-hand side of the card.
[1]
By scanning an AR Card, an animated 3D model which corresponds to the card will appear on screen. When scanning two AR Cards at once, the player can position them so that the arrows at the bottom of the cards face each other, causing the two cards to engage in battle.
Availability
Most of the cards were available through booster packs, though a handful of others were obtainable through different means.
Some were available through Club Nintendo, in strategy guide books, in various magazines, in first edition versions of the 3 disk soundtrack, packaged along with Pit and Dark Pit's Figma figures, and other, more obscure means.
Initially, AR Cards 405 and 411 (Medusa (Rare) and Pit (Victory) respectively) were never released physically, making their Idols only obtainable through hacking—however, Pit (Victory) was made available digitally on December 4th, 2018 when Kid Icarus: Uprising's official Twitter account revealed the full AR Card in celebration of Super Smash Bros. Ultimate's release.[2] Whether or not Medusa (Rare) will be released is currently unknown.
Regional Differences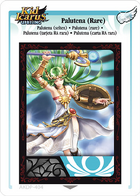 The code at the bottom left corner of AR Cards always begins with the letters AKD; however, the last letter in the code is dependent on region: AKDE is used for North American cards, AKDP is used for PAL cards, and AKDJ is used for Japanese cards.
North American and Japanese AR Cards have completely identical appearances, with the exception of their names and codes. PAL AR Cards are notably different from these two, with a colored border around the card's image, multiple different translations listed below the name of the card, and a lack of affiliation listed above the card name. Additionally, only PAL versions have a wing in the top right corner to signify a card's rarity, with a silver wing signifying uncommon, a golden wing signifying rare, and a diamond wing signifying ultra rare.[3]
Prototype AR Cards
Prior to
Uprising
's release, beta cards of
Pit
,
Palutena
, and
Medusa
were given out at
E3
,
San Diego Comic-Con
,
PAX Prime
, and a Las Vegas, NV
GameStop
Conference in 2011. All three of these cards featured different art of each character, the beta logo of
Uprising
, and lacked a colorbit in the bottom left corner. However, despite the colorbit's absence, the cards can still be scanned.
There are also beta cards of Magnus, Hewdraw, Dark Lord Gaol, the Fighter, a Monoeye, a Stackjaw, a Fire Wyrm, a Syren, a Mik, a Skuttler, the Standard Orbitars, the First Blade, the Violet Palm, the Crusher Arm, the EZ Cannon, the Tiger Claws, and the Fortune Bow; however, any information regarding whether or not these were ever distributed to the public is currently unknown.
Copies of Kid Icarus: Uprising came with a pack of six randomly selected AR Cards, which can be identified by the unique CXA code located in the bottom right corner of the card.
Booster Pack Cards
Series 1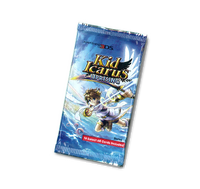 Series 2
Other Cards
Club Nintendo Cards
013. Great Reaper
180. Drill Arm
404. Palutena (Rare)
Strategy Guide Cards
029. Hades
048. Aurum Pyrrhon
053. Lightning Chariot
074. Exo Tank
398. The Chaos Vortex
406. Pit (Wingless)
407. Dark Pit (Flying)
Magazine Cards
004. Power of Flight
014. Goddess of Calamity, Pandora
017. Poseidon
027. Medusa (Battle)
086. Samurai Blade
403. Pit (Rally Cry)
3 Disk Soundtrack Cards
375. Daybreak
408. Pit (Revived)
Pit Figma Cards
188. Monoeye
410. Pit (Injured)
Dark Pit Figma Cards
407. Dark Pit (Flying)
409. Magnus and Gaol
Miscellaneous
003. Fiend's Cauldron
142. Skyscraper Club
156. Fireworks Cannon
221. Minos
230. Eggplant Wizard
405. Medusa (Rare)
411. Pit (Victory)
412. Kid Icarus Float
References
Community content is available under
CC-BY-SA
unless otherwise noted.