Boogities
are new enemies introduced in
Kid Icarus: Uprising
that act as guards of
Gaol's Castle
. They look like floating steel formations with a goblin-like creature embedded in them. Boogities use their slates of metal on their backs as shields, facing them towards
Pit
to prevent themselves from getting hurt. These metal plates even resist
Arrows of Light
. When ready, these frightening monsters can turn around to shoot large missiles at Pit. Boogities become vulnerable when they turn around to attack, as the metal slates that they live in protect them from any and all melee and ranged attacks. Boogities first appear in
Chapter 2
, then appear as recurring enemies throughout the game.
Idol Description
These enemies can shoot missiles and have impenetrable armor on their backs. But when curiosity gets the best of them, they turn around, revealing their weak spot. To their credit, they put a lot of effort into at least looking scary.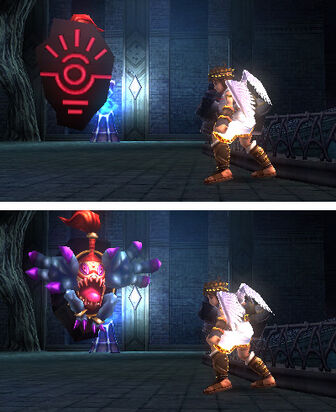 Community content is available under
CC-BY-SA
unless otherwise noted.