Warning!
This article may contain spoilers.
The Dog (犬 Inu, "Dog") is a minor character that appears in Kid Icarus: Uprising. He is a simple stray that roams the Decimated Town.
Physical Appearance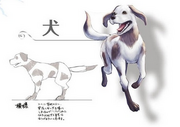 The Dog appears as an average dog, with a white and brown coat, and brown eyes. When measured to the shoulder, the Dog stands at about 2'7" (80 cm
[1]
).
Appearances
After the Girl trips and drops the Ring of Chaos, the ring is picked up by the Dog, which gives Pit control over his body. From there he runs the rest of the way to the Decimated Town and maneuvers through the wreckage until he spots Magnus, who is fighting off Centurions. Wanting to get his attention, Pit hops onto Magnus's back and shoves the Ring of Chaos in his face until he grabs it, causing Pit to lose control over the Dog's body. Afterwards, the Dog jumps off of Magnus's back and waits around for a bit as Magnus throws the ring behind him, then the Dog runs off.
Idol Description
A stray dog roaming the city. Clever and affectionate, the dog had many human friends, each one giving him a different name. The Ring of Chaos passes from a girl to the dog before finally ending up in Magnus's hands.
Gallery
References
Community content is available under
CC-BY-SA
unless otherwise noted.