Warning!
This article may contain spoilers.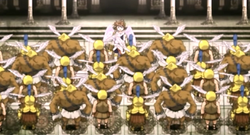 Palutena's Army
(パルテナ軍
Parutena-gun
, "Palutena Army"), also referred to as the
Icarus Army
,
[1]
is the primary faction of the
Kid Icarus
series. Ruled by
Palutena
, they are responsible for the well-being of
mankind
. Their forces are mainly comprised of
Centurion
troops, with
Pit
acting as their captain.
Members
Notable Members
Palutena: The founder and leader of the army.
Pit: Palutena's pupil, as well as the captain of her royal guard.
Troops
Appearances
After Medusa kidnaps Palutena, she turns all of the Centurions to stone. The Centurions can be freed by hitting their statues with a Mallet. Once freed, the Centurions will aid Pit during his fight with a Fortress Gatekeeper.
Instead of being solely in Fortresses, Centurions can be found in most stages, having been petrified like in the original Kid Icarus.
Palutena's Army is Pit's Final Smash, in which he orders a horde of Centurions to attack his foes. The Centurions fly around the stage and ram into all foes in sight, falling to the ground upon attacking successfully.
In Chapter 17, Palutena calls upon Centurion Strongarms to aid Pit by carrying him on a platform into the Aurum Brain Fortress.
During Chapters 18 and 20, Palutena's Army becomes antagonistic in nature after Palutena falls under the control of the Chaos Kin. Palutena binds Pit's soul to a ring, and Pit regains consciousness three years later, unable to remember what had happened to him. His body, however, remains loyal to the possessed Palutena, and as a result, he and the Centurions attack the very humans they swore to protect.
Centurions also appear throughout the game in the form of the Centurion Assist, an item which summons a replica of a Centurion to aid Pit in battle.
References
Community content is available under
CC-BY-SA
unless otherwise noted.