Shelbo


Affiliation
Underworld
Appearances
Kid Icarus: Uprising
Attack(s)
Sucks air inward, trying to bring Pit closer, then uses a spin attack
Weakpoint(s)
The eye inside its mouth
Shelbos (ツボック Tsubokku) are new enemies that appear in Kid Icarus: Uprising. They are a part of the Underworld Army and almost completely invulnerable to regular attacks.
Characteristics
A Shelbo is a purple monster that wears a green spiked shell. The Shelbo can open it's mouth to reveal a large eye and, at the same time, can create a tornado-like whirlwind to try to suck in Pit. If successful, the shell causes a Poison effect when Pit comes into contact with it. Its mouth is lined with sharp teeth that can deal some damage too. A Shelbo's only weak spot is its eye, so when it tries to attack you, that's your chance. The best way to defeat this enemy is to use a backwards dash attack while it's eye is still in sight; otherwise, its shell acts as a shield, making even the strongest attacks look like just a scratch.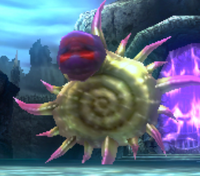 Appearances
Shelbos are strong enemies in the Underworld Army. They will appear in most chapters but are not as common as Monoeyes.
Idol Description
Essentially an impervious shell with lips, Shelbo fights by biting its prey. This attack reveals Shelbo's only weakness: they eye inside its mouth. Joke time: why is Shelbo good at dieting? Because it always watches what it eats. Oh!
Trivia
The name "Shelbo" most likely comes from the words "shell" and turbo."
{C}