Snong

Affiliation

Underworld Army

Appearances

Attacks

Claps its limbs over foes
Stomps on opponents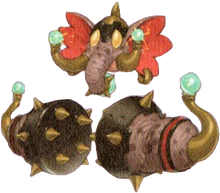 The Snong (ブオン Buon) is an Underworld enemy in Kid Icarus: Uprising.
Physical Appearance
The Snong is a monster resembling a brown, disembodied elephant head with two limbs. It possesses a gold and black hat, which matches its gold tusks, ear rings, spiked collar at the end of its trunk, handle-like appendages on its limbs, and numerous spikes at the bottom of its feet. It has blank yellow eyes, and at the tips of its trunk, tusks, and legs, it possesses light blue orbs that appear to conduct electricity.
Appearances
Once the Snong locks onto its target, it will summon its two disembodied limbs to perform three attacks in a row.
In Air Battles, the Snong will align its feet to either side of its enemy before clasping them together.
In Land Battles, the Snong will align its feet above its opponent and stomp onto the ground.
These attacks are always preceded by an indicator for where it will strike—a yellow streak will appear between its feet in Air Battle, while yellow circles appear on the ground in Land Battle.
| | | | |
| --- | --- | --- | --- |
| Min Health (Air) | Max Health (Air) | Min Health (Land) | Max Health (Land) |
| 147 | 529 | 68 | 356 |
Idol Description
Semiconscious monsters that resemble elephants. The head commands two arms that come from both sides to crush their enemies. While they're one of the Underworld's heavy hitters, they don't mind helping out around the office.
Gallery
Trivia
The Snong's English name may be a combination of the words "snout" and "strong."