Souflees (ケーク Kēku, "Cake") are Unaffiliated enemies that debuted in Kid Icarus: Uprising.
Physical Appearance
The Souflee is a yellow, cake-like monster, with cream-colored frosting and a red eyeball that resembles a cherry. While both its front and back sides seem to possess a smiling face, these features are merely markings, as they remain inanimate during battle.
Appearances
Souflees do not attack opponents, taking to running away from them instead. Their movements are typically swift and unpredictable, making their capture difficult. However, should they be defeated, they will grant the player a large sum of hearts and points.
In the 3DS version of the game, Souflees appear as enemies in the multiplayer feature Smash Run. Defeating them grants the player a large amount of power-ups.
In the Wii U version of the game, the Souflee appears as a random event in the multiplayer feature Smash Tour. Once it appears, players can bump into it for a Checkpoint Bonus.
Trophy Information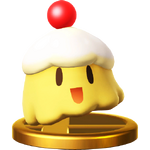 One of the cuter enemies to come from Kid Icarus: Uprising. Knowing Pit's love for all things edible, it's just cruel to disguise an enemy as a cake. See the little cherry on top? That's actually an eye! And nothing delicious would float around and attack in such an annoying, erratic way.
Idol Description
Bonus enemies who reward those who defeat them with tons of extra points and hearts. They dash away when found, so do what you can to take them down before they disappear. Foodies beware: that cherry on top is actually an eye!
Gallery
Trivia
Its English name is a combination of the words "soufflé" and "flee."