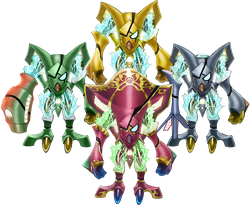 The Space Pirates (星賊 Hoshi Zoku, "Star Thieves") are one of the factions introduced in Kid Icarus: Uprising.
Ruled by the Space Pirate Captain, they are a group of thieves that travel through the Galactic Sea in their Space Pirate Ship and steal constellations from the skies.
Physical Appearance
Space Pirates are stocky, vaguely insectoid creatures, most notable for their armor-like exoskeletons. This armor serves to protect the glowing interiors of their bodies, with their organic limbs visible between segments. The center of their armors also possess what appears to be a face, featuring a single left eye and a mouth piece with two slits built in to allow for vocal communication.
The color of their exoskeletons vary by rank, with the captain possessing a red exoskeleton, the sniper possessing a dark gray exoskeleton, the commando possessing a green exoskeleton, and the regular Space Pirate possessing a yellow exoskeleton.
Members
Appearances
As Pit gets ready for his battle with Medusa, Palutena informs him that she hid the Three Sacred Treasures in the constellations, which were stolen by a faction known as the Space Pirates. To make matters worse, the Underworld Army begin raiding the Space Pirates in an attempt to claim the treasures for themselves, so Pit and Palutena give chase through the Galactic Sea.
Pit manages to infiltrate the ship, fighting both the Space Pirates and the Underworld Army along the way. Once he reaches the ship deck, he encounters the Space Pirate Captain shouting orders. As Pit and Palutena discuss what he may be saying, tentacles suddenly emerge from underneath the ship, which grab the Captain and toss him into the mouth of a giant space Kraken.
Trivia