| | |
| --- | --- |
| | This article is currently a work in progress. Missing information and/or images are common. Please wait patiently for more information or images to be added, or help out by contributing. |
Tiger Claws

"...the Tiger Claws' usefulness in battle speaks for itself."
Vital statistics
Weapon Type
Claws
Range Strength
Strongest Attack
The Tiger Claws are Claws introduced in Kid Icarus: Uprising. As the name says, they resemble actual tiger claws. Tiger Claws are the standard model of Claws, making them the most balanced among the Claws.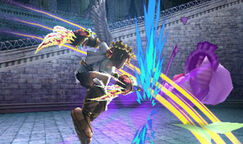 Idol Description
Claws are melee-specialized weapons that fire talons. They improve speed more than any other weapon, useful since they tend to have a short attack range. With a balanced set of qualities, the Tiger Claws' usefulness in battle speaks for itself.
Statistics
Max Shot Distances
Standing Continuous: 23.8
Standing Charged: 28.0
Forward Dash Continuous: 30.0
Forward Dash Charged: 34.0
Side Dash Continuous: 30.0
Side Dash Charged: 32.0
Backward Dash Continuous: 30.0
Backward Dash Charged: 32.0
Base Melee Damage
Combo Strike 1: 15.0
Combo Strike 2: 8.0
Combo Strike 3: 6.0
Combo Strike 4: 7.0
Combo Strike 5: 20.0
Dash Strike: 47.0
Weapon Fusion
Gallery
Community content is available under
CC-BY-SA
unless otherwise noted.