Vaklooms are a new enemy in Kid Icarus: Uprising, belonging to the Underworld Army. They hide in their shell and absorb Pit's shots. After absorbing enough shots, they come out of their shells and fire a powerful laser, tiring themselves afterwards and leaving themselves open to attacks. They can be damaged by attacking the hands or feet when their head is hidden in their shell; therefore, they can be defeated before coming out of their shell. They first appear in Chapter 6.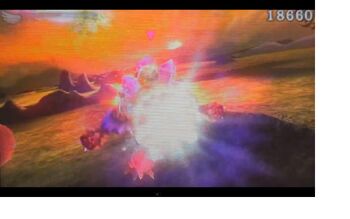 Idol Description
Vakloom absorbs all ranged attacks with the black hole in the center of its body. It then converts that absorbed energy into a massive laser blast that it uses to return fire. A slow creature, Vakloom is best taken down with melee attacks.
Trivia
In air battles, Pit can stop their attacks by using his special when they attack.